White Fruit Corn – Cameron Highlands
Pure White Fruit Corns – Cameron Highlands
My husband and I found this quaint corn farm on the web while doing research for must-visit attractions in Cameron Highlands, with one of the results pointing straight to your homepage. A positive review from a previous customer left a good impression, and we subsequently added this corn farm to the itinerary for our group, including my 88-year-old mom.
Upon trying the white sweet corn, the first thing that hit us was that it looks extremely appetizing. The corn was described by others as "Fruit Corn", and it indeed lives up to its name with its even, pearly white kernels that create a juicy and sweet explosion of flavors in your mouth. We have had fresh corn from the farmer's market before, but this white sweet corn really stood out because it didn't have the starchy texture of every other corn we tasted. The fruit corn is really yummy, and we couldn't stop eating it while we were there.
My 88-year-old mother has dentures and does not normally eat such food, but she loved it and said that she had never had such juicy and sweet corn in her life. My husband, who does not normally enjoy such food, hesitated to try it but loved it when he tasted it and decided to order more cobs for his colleagues in the office (they loved it too!). In fact, we had previously placed an order of 60 cobs of this White Fruit Corn, but after trying the sample, we decided to increase our order to 100 cobs to share with our friends and family.
The corn keeps well frozen, and I was able to share the joy with my daughter who was overseas for a week. The flesh stays just as firm and sweet as the day I bought it.
This is the best corn we've ever tasted, simply outstanding! I doubt I can find any other corn in Malaysia that can beat this farm's, and they are a top visit when we visit Cameron Highlands again. Our group bought fruit corn, sweet potato & honey from the farm and it was worth every cent.
Thank you so much for your hospitality during the visit. We felt like part of the family when you look around on the guided tour of the farm and showed us your labor of love. Our best wishes to all of you!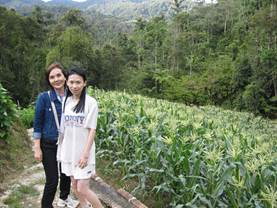 水果玉米 – 金马仑高原
我和老公在网上策划金马仑高原的必游景点時发现这家奇特的玉米农场。浏览贵农场主页時,被你一个客户的积极评价留下了良好的印象,我们决定将这家奇特的玉米农场列入我们的行程,连同我八十八岁高龄的老妈也随行。
在试吃水果玉米当儿,可口度可不是三言两語可以形容。这些玉米被形容为"水果玉米",它确实不辜负它的称号,珍珠白仁小小棵粒,在嘴里释放了独特的香甜又多汁。我们之前有尝试过农场的新鲜玉米,但是这个珍珠水果玉米真的是一枝独秀。贵农场栽种的水果玉米是真正的美味,我们不停的吃,不停的吃,真是欲罢不能。
即使我八十八岁高龄的老妈依靠假牙,不能大口的咬噬此类食物,仅可以小棵粒一粒一粒品尝,但她非常喜欢,她说一生中从来没有吃过这样多汁香甜的玉米。我的丈夫向来不喜欢吃玉米,也毫不犹豫地尝试,也喜欢上它。并当场决定订购更多的玉米棒子好让同事们不致于错失这多汁香甜的水果玉米(同事们都赞不绝口!)。在尝试了这样多汁香甜美味的玉米样本之后,我们决定从预先订购的60棒子增加至100棒子,好与我们新加坡的朋友和家人分享,太好了!
将余剩玉米储藏入冰箱冷冻是别无选择,是为了能够让我女儿几天后回国能分享我们的欢乐时刻。它的可口度新鲜度依然保持不变。
这是我们吃过最顶级的玉米,非常突出,只此一家,絕无分行。下一次再访金马仑高原時,一定不容错过。
谢谢你与你的父母亲在这次参覌期间的热情款待。在分享栽植过程中,我们就像是在家的感觉。我们在此献上深深的祝福!
Amy Neo and family (Singapore)
Share with us your experience, we have appreciated your sharing.